---
February
---

One Sweet Spring
February 17th & 18th 10:30 AM
The first Kimberbell event of the year is here! And it's perfect to get into the spring mood. This cute little wall hanging is great for not only Easter but for spring in general as the little banner is reversable between saying Easter and Spring. Brighten your home up after the cold winter and join us for two days of fun! Sign up now!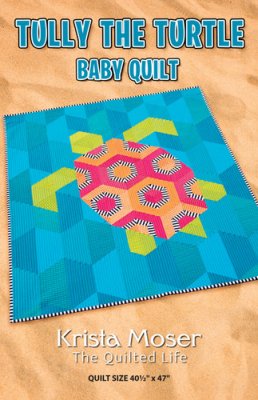 Tully the Turtle
February 18th 9:30 AM
Join us in swimming towards warmer weather with this cute little turtle baby quilt. Also a perfect class to work with the 60 degree diamond ruler before Krista Moser comes to teach in the fall. Sign up now!

---
March
---

Late Night Sew
March 4th 1:00 PM to 2:00 AM
Staying up late sewing with your friends sounds like a great time! Join Amy and Carol for our a Late Night Sew. We will be doing the Avenue pattern by Cluck Cluck Sew. We will have drawings through out the night and specials for attendees. Dinner, breakfast and snacks will be provided, along with coffee and water. Please feel free to bring any other drinks you would like. Sign up now!



Master Class with Jacqueline de Jonge
March 28th - 30th and March 31st - April 2nd
Jacqueline is coming back! She will be teaching two sessions at the end of March into the beginning of April. We have several patterns of hers to choose from the class, from beginner to master to challenge everyone. Each session is three days with Jacqueline teaching the steps to her beautiful quilts. Sign up now!

---
April
---

Collage Class
April 21st - 22nd 10:30 AM
Collage quilts can seem intimidating but they won't after this class. Join Judy in learning Laura Heine's collage method to make these stunning pieces of art. The first day will be focused on fabric selection and prep. The second day will be putting the pieces together. No sewing machine required! Sign up now!



Freestanding Fabric Bowl
April 29th 9:30 AM
Hop on the freestanding train with us with this beautiful freestanding fabric bowl! With your choice in embroidery threads you can make the perfect accent bowl for your home or office. Sign up now!

---
May
---

Bargello with a Twist
May 12th and May 20th
In Bargello with a twist using Janice's technique you will learn how to create a bargello without matching seams. This method will have you done with your quilt much quicker. Your first class Janice will explain your pattern, talk about color placement and choosing your fabrics. The second class will be the fun of sewing it all together! Sign up now!



Celtic Knot
class date and time
You have all been asking about this pattern and now we are hosting a class! Learn how to make this beautiful trinity knot with Judy's help. The two day class will include being walked through how Judy designed the pattern and pieced it as well as cutting the center with Judy's Studio die. Sign up now!

---
June
---

Snow Country Express
June 8th - June 10th 9:30 AM
ALL ABOARD on the Snow Country Express!
Enjoy a wonderful sightseeing journey around snow covered mountainous, pine filled country side with this fantastic machine embroidery design. This is an exclusive design workshop with Claudia from Claudia's Creations. Choose your theme and color way -- Winter Theme or Christmas Theme. Snow Country Express has interchangeable scenes so you can make it more Christmas or Winter wall hanging. The workshop is three days.
Registration includes instruction with Claudia and Lunch each day. Sign up now!




Omaha Quilters' Guild 44th Annual Quilt Show
June 22nd - June 24th
Celtic Quilter will be at the Omaha Quilters' Guild Quilt Show again this year. Keep an eye for our booth full of deals and fun demonstrations.



Kansas City Quilt Show
Celtic Quilter is going on the road for a Quilt Show in Kansas City this year! Keep an eye out for more information!

---
August
---

Trunk Show with Krista
August 10th 5:00 PM - 7:00 PM
Join Krista as she tells her story, how she started very young and went on to design her own quilts and patterns. There will be time for questions afterwards. Sign up now!



Quilting with Krista
August 11th and 12th 10:30 AM
Krista Moser is the designer of the Creative Grids 60 Degree Diamond Ruler and Mini Ruler. She has published more than 20 patterns with more on the way! Spend two days with Krista, learning how she creates her patterns. We will be offering two patterns to learn during the two days. Sign up now!



Retreat at St. Benedict
August 14th - 17th
Looking to get away from the day-to-day grind? We have the perfect solution for you! Join us for a 4-day retreat at St. Benedict Retreat Center in Schuyler, NE. The cost of the retreat includes 4 lunches, 3 dinners, and a 3 nights private sleeping room. The sewing room is available 24 hours, so it does not matter if you are early bird or a night owl. Plans for the retreat have not been finalized, but each day there will be a small project for those that are interested in learning something new, gifts, fun and games, and a pop-up shop. Of course, there will be plenty of time for you to work on some of you current projects. Sign up now!
---
Blocks of the Month
---
We still have room in several of our Blocks of the Month programs. If you are interested in any of them please give the shop a call at (402) 512-7195 or stop on by. Most will be starting in February.



Moonrising



Bench Pillows of the Month
Starry Night
---
Hours: Monday - Friday 10am to 6pm, Saturday 9am to 4pm, Closed Sunday
Website Facebook Instagram Tik Tok Link Tree